TringCon is a biannual one day board gaming convention, held in Marsworth, near Tring. All forms of board games, collectable card games and other similar tabletop pastimes are welcome.
Despite a change of management, TringCon will continue in the same format it did for the years when Keith was running it, or as close as we can manage. There will be hot and cold drinks and biscuits available throughout the day, and a buffet in the afternoon. You'll need to bring your own lunch. There is space to sell games that you no longer need or want, and the opportunity to buy such from others.
Dates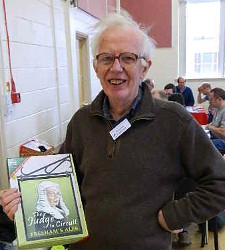 Pandemic permitting, we hope the next TringCon will be on 2nd October 2021 and will be dedicated to the memory of Francis Tresham, who sadly died shortly after the last TringCon. Francis was an occasional TringCon attendee. But more than that, he was the designer of some of the most influential games in our hobby; Civilization and 1829 (the latter later finding more widespread popularity in an updated form as 1830). RIP Francis.
The day starts at 9AM and will run until 9PM.
If you have any questions, please get it touch at contact@tringcon.org.